MATERIAL
MONOLITE IPERGRES® is the exclusive stoneware of Laboratorio Pesaro, a mixture of: clay, quartz, feldspar, kaolin, chamotte, molochite (each raw material is absolutely sustainable and free of any harmful substance) with which the company produces slabs of large sizes, self-supporting although very thin, and large objects with structural and tactile high performance. MONOLITE IPERGRES® is a ductile material that allows to create projects, standard products, custom-made and even "oversized" for various market sectors.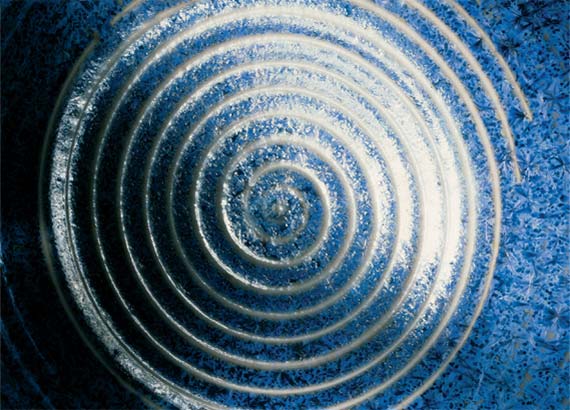 TECHNOLOGY
With the technique of single-firing at high temperature (up to 1250° C), through cycles of up to 60 hours, the glazes combine firmly between them, ensuring to the surfaces excellent resistance to impact, scratches, weathering (UV ), frost and corrosion; higher than that of marble and granite. On the market MONOLITE IPERGRES® is today a unique bond of original and innovative solutions at the service of aesthetics and functionality using selected and safe raw materials through an environmentally friendly process.
PERFORMANCE
The Department of Territory and Geological Resources and Land of the Polytechnic of Turin and the Ceramic Centre of Bologna have carried out tests to determine the physical and mechanical properties of the material MONOLITE IPERGRES® with the following results.
VARIABLE
VALUE
Density (weight for unit of volume g/cm3) - DIN 51064
2.17
Weight H20 mm Worktops per Square meter (+/- 5%)
43.50
Weight H28 mm Worktops per Square meter (+/- 5%)
44.80
Weight H38 mm Worktops per Square meter (+/- 5%)
48.50
Dimensional and geometrical properties - UNI EN ISO 10545 - 2
Compliant
Colour stability to Light and UV rays - UNI EN ISO 10545 - 16
Maximum
Determination of moduls of rupture and breaking strength - EN ISO 10545 - 4
• Average breaking load (N)
16114
• Average breaking strength (N)
14649
• Average Modulus of rupture (N/m2)
43.10
Flexural strength after frost resistance test (EN 100 – MPa)
40.60
Determination of impact resistance by measurement of coefficient of restitution - EN ISO 10545 - 5
0.80
Determination of deep abrasion, hardness according to Mohs - EN 101
6
Linear Thermal Expansion Coefficient (10-6 °C-1) - UNI EN ISO 10545 - 8
6.50 - 7.00
Thermal Shock Resistance - UNI EN ISO 10545 - 9
OK
Crazing Resistance - UNI EN ISO 10545 - 11
OK
Frost Resistance - UNI EN ISO 10545 - 12
OK
Determination of chemical resistance of glazed surface - EN ISO 10545 - 13
OK
Determination of stain resistance of glazed surface - EN ISO 10545 - 14
OK
Releasing of Dangerous Substances, skid resistance - UNI EN ISO 10545 - 15
Pb
Cd

0.00
0.00
Thermal Resistance (exposure up to 10 Hrs.)
up to 900°C
Behaviour in Fire (Combustible material) - DIN EN 13501 - 1
NO
The pentagon of excellence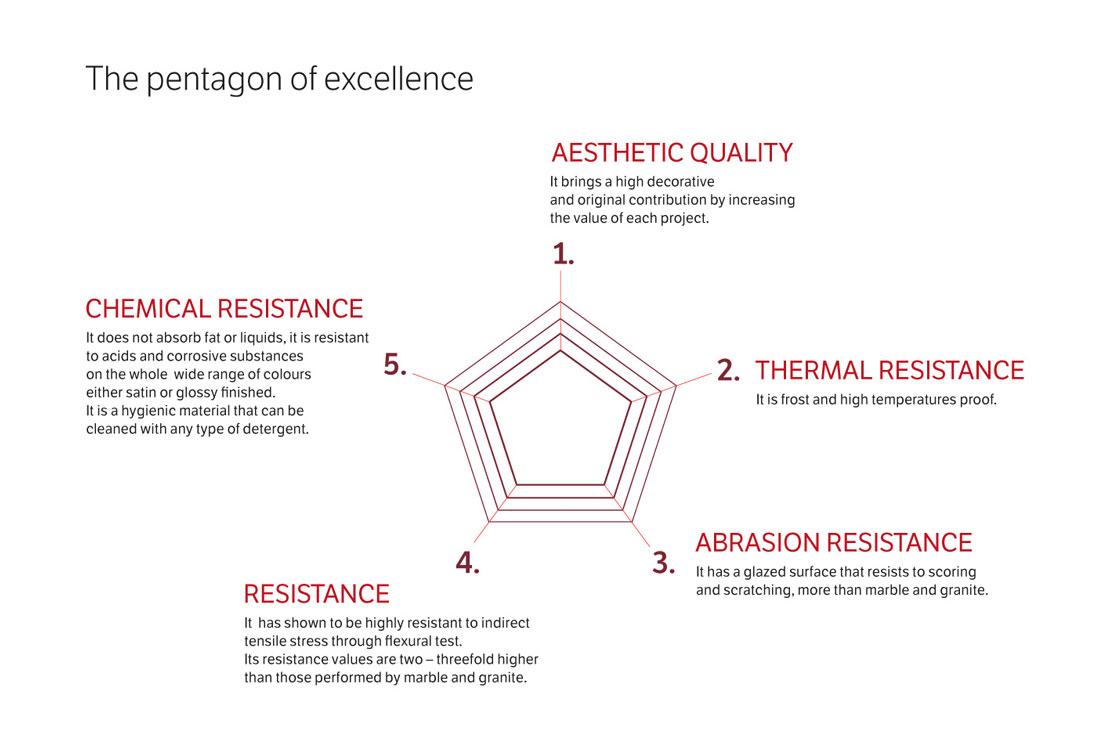 EXTREME CUSTOMIZATION
With MONOLITE IPERGRES® it is possible to obtain all the objects that the architect's and designer's creativity suggests, with no functional or aesthetic limits. It is stoneware easy to work on standard or oversized dimensions and thicknesses.

Edges and holes
You can easily cut out slabs in MONOLITE IPERGRES® for sinks of various shapes, for accessories and to create each type of opening with glazed or unglazed cut edges. The edges can be shaped depending on the function and the desired design with special finishes and trim profiles.
Textures
Through moulding and sedimentation processes, which allow the integration among glazes - colours and design, it is possible to create original and unique textures which offer a reproducible in series high quality. The textures are designed on file and transferred to the surfaces to be faithfully reproduced. Every surface MONOLITE IPERGRES® can be finished with technical satin and semi-gloss glazes or with special crystallized glazes and slipware that give pleasant, warm, natural and sensitive tactile sensations.
Colors and finishes
The wide range of colours and finishes offered enables original combinations that enhance the personality of each choice. The glazes are distinguished between industrial (uniform) or more artistic (made by artisans) to create unique pieces. MONOLITE IPERGRES® allows great freedom of expression and decoration by "tactile" quality and extraordinary shades of glazes. The quality and innovation of the products realized in MONOLITE IPERGRES® match elegantly with any other material (wood, marble, glass, metal...) in perfect physical combinations.